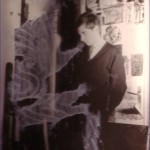 Patrice Dechavanne was born in Paris.
Impassioned by painting since a very young age, he gave his first exhibition in Rouen in 1962. Researching new materials he prepared his paintings himself with a base of pigments and varnish. This technique gave his works a very distinctive aspect. During the first years of his work, he steered towards the abstract and sought behind nebulousity to express his emotions. He participated in a group exhibition in 1966 at the Museum of Modern Art in Paris. In 1968 he worked in a cooperative called 'Posters'.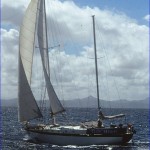 At the end of 1968 he decided to leave Paris, his house, his family and studio to depart on a tour of the world on a sailing yacht with his companion Renate. This voyage across the seas lasted 6 years.
Having had a taste of the tropical sun, Patrice Dechavanne settled his family in the south of France. An ancient ruined tile factory became their business. It was transformed into a meeting place for artists, painters, sculptors, musicians, dancers, poets, writers and philosophers who came to work, exhibit and exchange their ideas. Painting remained his centre of interest. His style changed. He inserted into his canvasses, still abstracts, figures, female figures mostly, which  gave his work a surrealistic air.
During the eighties he created a brand of furniture 'Les Girpis'. This furniture made of PVC tubes was designed for interior and exterior usage.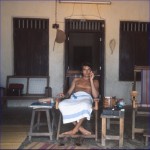 Dechavanne continued his life moving between the south of France and India. His philosophy was reflected in his work. Half a century of research made Dechavanne an accomplished artist. For the last 10 years he has been working in his studio in Montpellier.
Principal exhibitions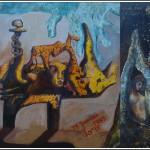 Dechavanne showed his works in numerous exhibitions mostly in France, at Rouen, Evian, Paris, Nice, Chateau Les Lones, Haut de Cagne, in the Alpes maritimes, at Flayosc, Salernes, Draguinan, Ste Maxime,  at St Tropez in the Var, Quiberon in Brittany and Southampton, England.
He participated in numerous group exhibitions.
He received the 1st prize for surrealistic art in Nice in 89, The Dou Capellan at Ste Maxime 90, in 91 he received 1st prize  of La Mole.
In 99 he presented an exhibition of numerical works at Galerie 83  'Some Dechavanneries before 2000'.
It was not until 2011 that Dechavanne decided to show his works in a permanent exhibition at this site.